Microsoft PowerPoint Training Courses

Enrol today, start by 5pm tomorrow and have a resource for 12 months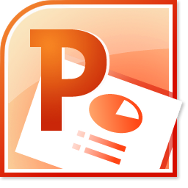 Our Microsoft PowerPoint Courses will teach you how to navigate an existing presentation as well as create one from scratch and use advanced tools to format it professionally and incorporate various forms of media like images, videos, drawings etc.
This course is now available separately and included in our corporate training.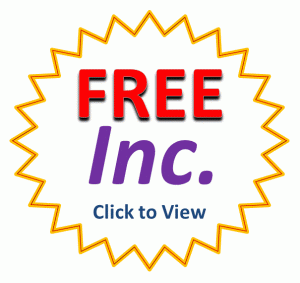 There are now a whole bunch of free courses that are included for all EzyLearn students. No matter which of our courses you enrol into you'll be able to use your login details to access all of these online courses for free!
* Microsoft PowerPoint Training Workbooks
Our Microsoft PowerPoint workbooks take you through step by step exercises to learn basic and then more advanced skills. We've crafted this course to ensure that students are on a constant learning curve until they develop intermediate skills.
*Microsoft PowerPoint Training Videos
The Microsoft PowerPont training videos replicate the information in the workbooks so you can learn using multiple methods (and choose the one that suits you the most if you like).
* Microsoft PowerPoint Exercise Files
One of the best ways of learning is to receive existing files and modify them as you need. This will often help you maintain a solid flow of points as well as keep with the corporate design principles. Corporates will often have their own design templates and we go through this with you.
* Microsoft PowerPoint Knowledge Review Test
Our Microsoft PowerPoint knowledge review tests form the basis of the certificate of completion and give you an understanding of the important aspects taught in each section within each course. You'll be able to tick your skills off and build confidence in using the software.
Microsoft PowerPoint Online Training Course Outline
Microsoft PowerPoint (401) Beginners Course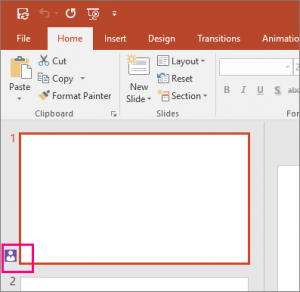 Start creating great looking presentations within 2 hours. This module takes you through the fundamentals of slides, the outline pane, notes pane, plus slide transitions and how to navigate through and control a presentation.
Once you understand the basics of Microsoft PowerPoint, this course will take you through how to format text and all the contents of text frames, how to select multiple frames and apply broad formatting, understand bullet formatting and how to customise bullets and change indenting using the ruler. You'll learn about using tabs in PowerPoint (slightly different to using Microsoft Word) and also Format Painter to repeat existing formatting much faster.
The capability of using frames enables PowerPoint to be used like a publishing or image editing program to create logos and graphics.
Microsoft PowerPoint (402) Beginners Course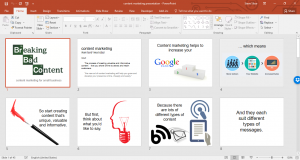 You'll insert a Microsoft PowerPoint chart and see the why this is more beneficial than copying and pasting a chart from Excel (much better for visually showing different components of the graph to your audience).
You'll learn how to use the Outline Pane to create a PowerPoint presentation quickly, and the function of promoting and demoting as well as re-arranging various parts of a presentation.
Slide Sorter to arrange the slides in your order of preference and also how to very quickly give a presentation a professional appearance with the use of Design Templates. These can also be created for companies so that all presentations have the same look and feel.
Microsoft PowerPoint (403) Intermediate Course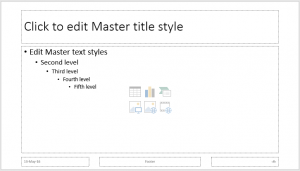 In this course you'll learn about slide masters and how you can change them to instantly modify the look and feel formatting of your existing and new presentations. Large corporations use design templates that are based on slide masters and when they make a change to their corporate branding they use these tools to ensure that all departments use the new designs uniformly in their presentations.
You'll learn about headers and footers (for inserting project names and logos), as well as automated features of PowerPoint presentations like the transitions between slides as well as the animated effects you include within a slide (down to paragraph by paragraph and object by object animation effects). You'll learn about group elements and moving them together or separating them and you'll learn how to insert and manage multimedia files like audio and video within the presentation.
You'll also learn about different ways you can print out your presentation to give your attendees something to take with them. In this final PowerPoint course we include the steps you'd take to turn your presentation into an online training course.
Learn more about creating induction courses    See our Corporate Training Offer
See Prices and Enrol
Microsoft Office Beginners Essentials Combination Offer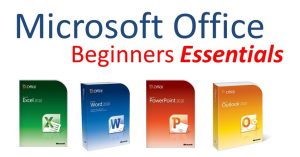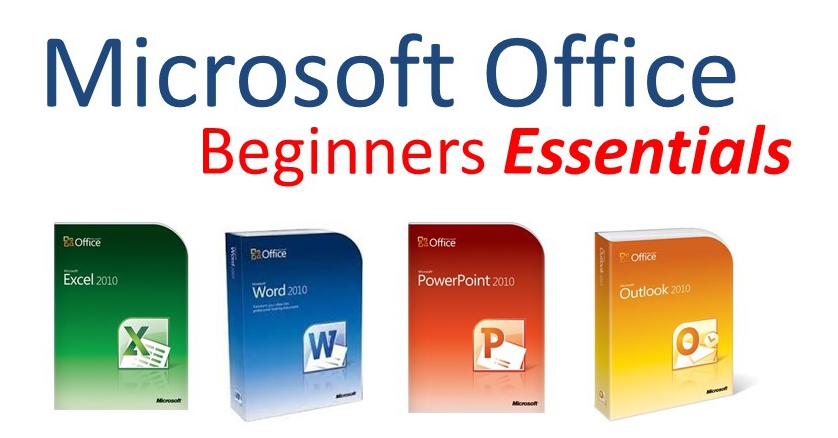 Are you a beginner to the Microsoft Office suite of programs and would like to learn all of these programs in one course? That's why we created the Microsoft Office Beginners Essentials Courses – a fantastic way to get a solid understanding about how to navigate, use and create documents, spreadsheets and presentations as well as manage emails, calendars, contacts and tasks. All of these courses are available for one low price with 12 months access and the option or a certificate if you want one.
When you enrol into the Microsoft Office Beginners Essentials courses you'll also receive the Free Student Inclusions that come with being an EzyLearn student.