MYOB online bookkeeping training course:
You get all 5 MYOB Training Courses for less than the cost of one course:
Enrol today, start by 5pm tomorrow and receive LIFETIME course access.
A word from EzyLearn CEO, Steve Slisar
We've gone from 3 physical training centres in Sydney to no training centres and mums working from their homes across Australia. Learn about our online MYOB, Excel, WordPress and other courses, how they work and what they include and see why thousands of workers, business owners and students choose EzyLearn for their online training.
Watch some MYOB and Excel training videos now

Click on the video icon to view some free training videos on Microsoft Excel and MYOB. In our online training course you can go over the training material again and again as often as you need to. We don't lock you out once you've completed a section so you can use our site as a resource even after you've finished the course and received your certificate.
MYOB Certificate option available.
Receive lifetime access to the online MYOB training videos, the training workbooks (with step-by-step exercises) plus free MYOB webinars. You'll also be provided with access to the MYOB software for free so you can practice what you learn.
In January 2011 we introduced LIFETIME MEMBERSHIP — this means our online MYOB training courses are your MYOB training resource for the rest of your working life! Learn more about how the online course works.
In January 2012 we introduced MYOB Student Community and Tutor Support to provide you with more support during your MYOB Training Course and in July 2012 we introduced our Continuing Professional Development (CPD) Program that is available to all students who enrol into the MYOB lifetime courses.
In 2013 we launched a career support service to help you get that bookkeeping job you've been looking for and we're constantly looking for better ways to help you find a job using MYOB or starting and building your own business.
MYOB Training Course Price and Options
See our Enrolment Page for Course Prices and Options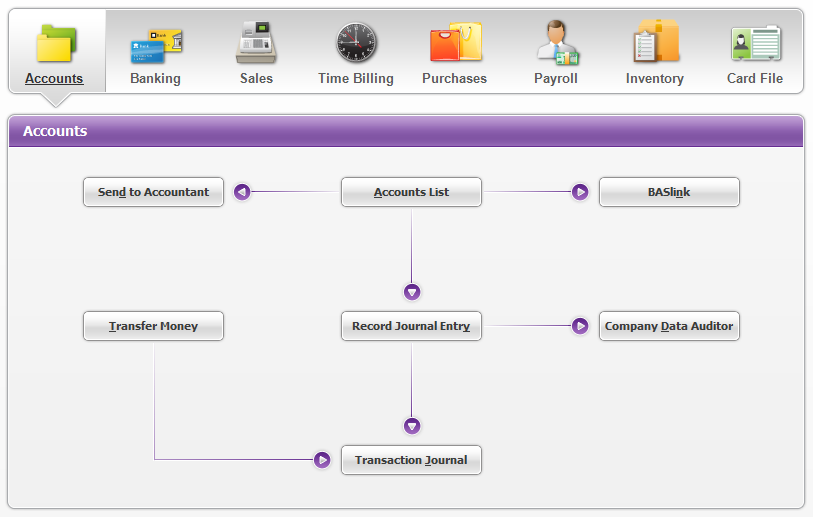 Our course includes MYOB training knowledge reviews to test your new skills and provide you with the learning resources to review your answers and go over the learning material so you get it right the next time.
Everything's Included!

Unlike some of the larger MYOB training companies, our online course includes everything. It is ONE price for ALL MYOB Training Courses (and every new MYOB course video we create):
MYOB Setup Course
MYOB Day-to-Day Transactions Course
MYOB Bank Reconciliation Course
MYOB Reporting, GST and BAS Course
MYOB Payroll Course
See the full course outline for all course topics in our MYOB Training Course Outline.
Our Online MYOB Training Course Comes With the Assurance of a Money Back Guarantee.
Accredited Course
The Institute of Certified Bookkeepers is a professional organisations for bookkeepers just like the National Institute of Accountants and CPA Australia are industry organisations for accountants. These organisations aim to build the skill level of their members and help them come to grips with change in the industry and regulatory requirements of organisations like the ATO and ASIC. They also act for their industry as a lobby group to government and small business government departments.
EzyLearn is an Accredited Training Provider of the Institute of Certified Bookkeepers and when you enrol into our online MYOB Training Courses you will find an application form that enables you to join the Institute of Certified Bookkeepers for free. When you join, you'll receive a monthly newsletter to keep you informed of changes in the industry.
You'll also become a student member of the Bookkeeping Academy CPD program to help keep your skills up-to-date and provide you with further depth to your bookkeeping knowledge.
You get the best when you focus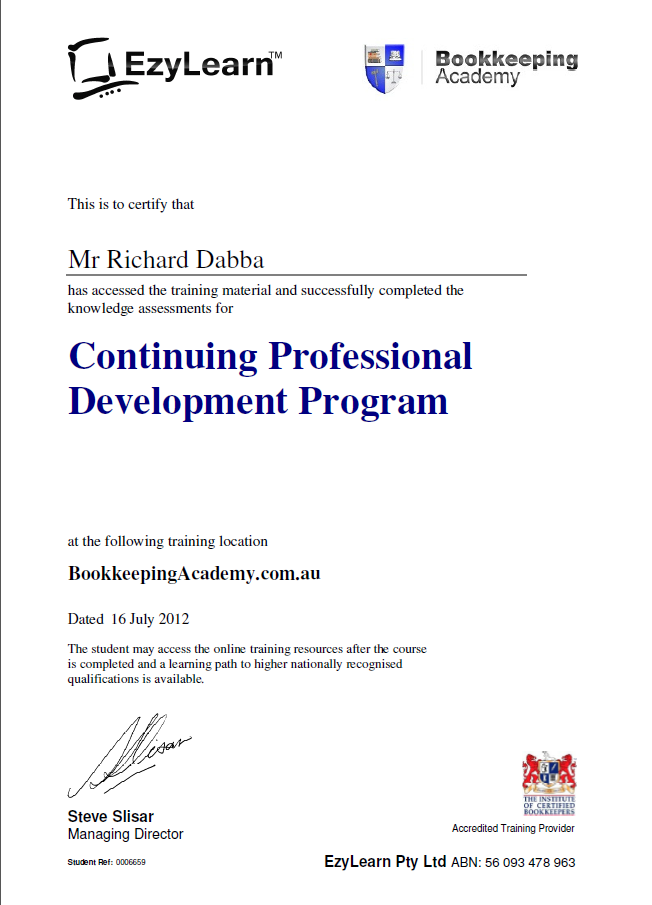 Our qualified BAS agents, bookkeepers and business owners create our own training workbooks, exercises and case studies, training videos and knowledge reviews so we provide you with a comprehensive learning experience that caters for every persons individual learning style.
In our pursuit of becoming Australia's number one choice for online training courses we decided to focus on giving you what you want in a training course:
Multiple training methods (video, workbooks, exercises and knowledge reviews
One price for all MYOB courses (5 courses in one)
The ability to move from course to course as you need rather than follow a strict learning process (so you can use it as a resource after the course)
LIFETIME membership so you can enrol now (and lock in today's low price) and use it when you need it in the future
Access to

new updated training content

at no extra charge
A price that is affordable for most job seekers and business owners
An MYOB Certificate that demonstrate your learning results as well as your learning commitment
A Continuing Professional Development program that helps you get a job or start your own bookkeeping business.
Video, workbooks with exercises and knowledge reviews (make us) the best training course at the best price with the best features
Learn more about how our online training courses work.
We introduced LIFETIME membership as part of our focus on the desire to be the best training course at the best price with the best features and we feel that there is no better MYOB training course available for the price. If you combine the different methods of training delivery, a great price and the ability to use the course for the rest of your working life, we believe this is the best course available.
Continuing Professional Development for Bookkeepers

As an added bonus for MYOB Training Course students we offer 12 months student membership to the Bookkeeping Academy. The Bookkeeping Academy is a Continuing Education program designed to provide you with regular information and updates in a webinar format. We release tips and tricks via our Employment and Productivity Training Blog in a brief and concise blog format and will augment this with regular webinars where you will receive important information about MYOB software as well as tools to help you find a new bookkeeping job or start and grow you own bookkeeping business.
We'll draw from the experience of bookkeepers, accountants and career and recruitment experts as well as online marketing and social media professionals to provide you with industry news and tools as well as tools to help your career and business.
Helping you get your next bookkeeping job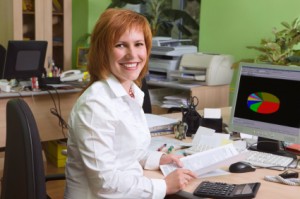 With the help of our career support professionals and in conjunction with the Bookkeeping Academy CPD program, all lifetime MYOB course students will receive help and support to write their resume and application letters for bookkeeping jobs. Our training workbooks contain exercises that relate to the daily and monthly bookkeeping activities for most businesses and through our connection with accountants and bookkeepers across Australia we keep abreast with the requirements for MYOB Bookkeepers in the workplace.
The experience of our MYOB bookkeepers and registered BAS agents means that our MYOB training course material and bookkeeping and career webinars are full of current content that employers are looking for in their job candidates. Helping you get your next bookkeeping job enables us to maintain relevant course and careers training content.
MYOB software versions
We've been teaching students how to use MYOB Accounting software since 1999 with some of the most accomplished educators in Australia including MYOB Certified Consultants Alee Cochrane, Marie Diblasio and Maria Landrelli.  Our current team of training course material writers include professional bookkeepers, registered BAS agents, business owners and accountants.
We maintain a regular blog relating to MYOB bookkeeping training courses where we keep students and blog subscribers informed about:
What is happening in the bookkeeping industry,
Changes to bookkeeping and accounting legislation
Updates about accounting software vendors
Tips and tricks to help job seekers find work
Tips and tricks to help people start and grow their business
In this blog we have written articles about the changes that are currently occurring with MYOB software, particularly how it relates to the movement towards "cloud computing" as well as how MYOB software compares to other cloud-based accounting software programs.
Because we create our own training materials we ensure that we keep the material up-to-date. Just like popular spreadsheet program Microsoft Excel, MYOB software undergoes changes each year. Up until MYOB AccountRight version 19.5 many of the updates to MYOB software related to more advanced features or addon services to the software so if you learnt using version 15, 18 or 19.5 the navigation around the software was VERY similar. In 2011 however MYOB went through a huge change in their software and we started to receive feedback from students and trainers about these changes.
As a result we now have training material for the earlier versions as well as the current version and we are constantly creating new training material.
Lifetime course access
Because we are now an online training organisation we can focus on delivering our MYOB training courses at a lower price and we can include more information. It also means that we can focus on being innovative in online learning. Read about our history of computer training since 1996.
One way we have been innovative is my offering students lifetime access to our MYOB training courses.
We've recently updated 3 of our courses to cater for the latest version of MYOB Accounting software and all existing LIFETIME access students can enrol into these courses for free!
We still have the older versions of the software because MYOB is recommending some of their customers not to upgrade to the latest version, read about it here.
We guarantee it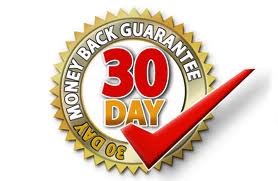 We are convinced from the feedback from thousands of happy students that we offer a money back guarantee. If you decide that you are not satisfied please contact us and let us know!
Please read the details of our Money Back Guarantee.
Why we don't offer class-based training any more – a word from our CEO
After operating 3 training centres in Sydney (Dee Why, Gordon and Parramatta) I learnt a lot about what students are looking for and these were things we tried to cater for in our Sydney training centres.
Ability to start the course when they want
Ability to learn at their own pace
A consistent learning experience
Ability to go over the training material again if needed
Training resources to keep as a reference guide for the future.
When we operated our training centres we had to put in effort and money into maintaining the training rooms, computers and software licences. We had to schedule the use of the training rooms and we had to pay for good trainers. When we did this we had many happy students, but I noticed inconsistencies in trainers training styles and that many students couldn't make one of the sessions in our short courses.
Since 2003 we started creating training videos to replicate what we taught in the classroom, this meant that students could now watch the instructional videos whenever they wanted to – they could start their course today! This also enabled them to come into the centre more often if they needed and it meant that every student had the same experience so when they recommended it to their friends they would have the same learning experience.
More Course Content less Cost
The most important things I discovered were that we could:
Put all of our training course content into online courses
Provide lifetime access to the courses
Include several different versions of the software
Deliver our training to remote areas, all around Australia and the world
I hope you like what you've read on this page and agree that is course is excellent value. Come and learn with us and discover why